Thai Best Batam Massage Package & Review
Searching Availability...
Business Hours:

10AM - 11PM

Address:

Ruko Penuin Blok O No. 5,6,7.
Recommended Treatment:

4-in-1 Treatment

Recommended Nearby Hotels:
Room

Facilities

Location

Service

Value for Money

Quality
Verdict
Unique Selling Point: Reflexology Theatre Hall (Cinema).
Authentic & Professional Thai Massage.
Fantastic locations in Baloi and Nagoya Hill.
Friendly and professional service.
Reasonable pricing for a high-level standard.
Introduction
  As a brand, Thai Best is a franchise that spans 3 countries: Thailand, Malaysia, and Indonesia. With 2 branches in Batam, Thai Best Batam focuses on providing authentic Thai massage to its customers. We hope this Thai Best Batam review will give you a comprehensive look into their service, facilities, price, and location. Although relatively new in Batam, Thai Best Batam is actually under the same management and ownership of another massage brand, Reborn Batam (which also has 2 branches on the island). Thai Best Batam Penuin was recently opened in Aug 2017 while Thai Best Nagoya Hill started in July 2017. This particular review will focus on the facilities and services of Thai Best Batam Penuin (which our team visited in Nov'17).
Location
  Thai Best Batam management seems to have an eye for location. The new Thai Best branch in the heart of Penuin / Baloi is strategically located in one of the shop houses across Batam City Square (BCS) Mall, beside Best Eating House. Their first branch is on the 2nd floor of Nagoya Hill Shopping Mall. Thai Best Batam in Baloi is within 5-minute walking distance from I Hotel Baloi, BCC Hotel, Gideon Hotel, and Batam City Hotel. Thai Best Batam in Nagoya Hill is within 5-minute walking distance from Nagoya Hill Hotel, Grands I Hotel, Amaris Hotel, The Hills Hotel, and Ace Hotel.  
Facilities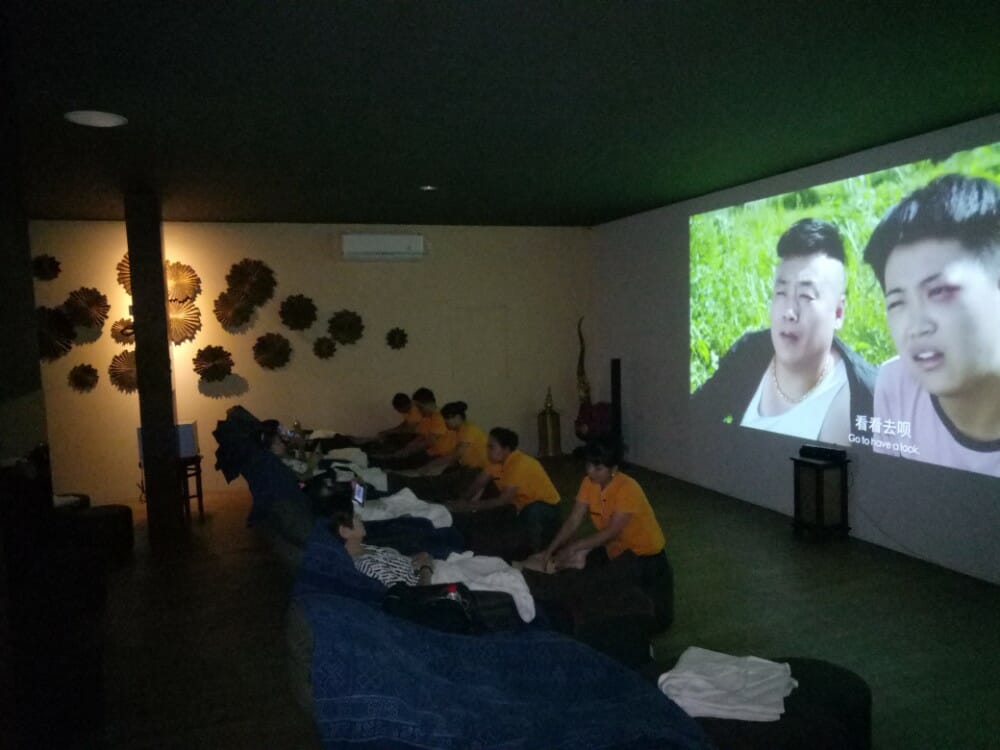 While most of their facilities are similar to many other massage centres in Batam, the one unique selling point of Thai Best Penuin is its Foot Reflexology Theatre Hall. It has the LARGEST and the ONLY foot reflexology theatre hall in Batam. You can relax on their new and extremely comfortable reclining chairs, watch a movie, and have your feet expertly massaged. The movie projection and hall were pretty huge and it made us feel like we were in a real cinema. Tip: If getting a foot reflexology and watching a movie is not your thing, you could go to a smaller reflexology room for some peace and quiet. These are their facilities:
Body massage rooms (group, couple, single)
Foot reflexology theatre hall
Foot reflexology room
Private lockers
Toilets
Foot-wash area
Changing rooms
Lobby, waiting area and products gallery
Complimentary drinks after treatments
Variety
  Thai Best offers a wide range of body massage and foot reflexology treatments. In addition, they also offer child reflexology, ear candling, and capping (guasha) services. Here are their list of services:
Thai Foot Reflexology
4-in-1 Treatment (Foot reflexology, shoulder, hand, and head massage)
Thai Body Massage
Thai Aroma Massage
Thai Warm Massage
Hot Herbal Therapy
Child Reflexology
Back & Shoulder
Body Scrub
Ear Candle
Cupping (Guasha)
Quality & Value
  Majority of our team went for the 90-min 4-in-1 treatment that includes close to an hour of foot reflexology followed by 30-min of head, shoulder, and head massage. It was one of the best foot reflexology services we've ever had. not to mention the added enjoyment of movie-watching! The 90-min 4-in-1 massage is priced at Rp 290,000 but they have an opening promotion of 50% OFF during the weekdays so we only paid Rp 145,000 (~approximately S$14.50). Super-duper worth it! (I even gave a S$5 tip to the therapist as I was extremely pleased with the whole experience). Tip: 50% Discount applies only on weekdays and for the Ala-carte items. On weekends, the discount is 20%. You're welcome once again! (Discount applies till 31 Dec'17). Some of us went for the body massage treatments and the feedback was equally positive. Authentic thai-style massage that was executed very professionally. We were really impressed with their quality. Tip: My therapist was Pipit. She's really good and despite her size, her fingers pack a punch! You're welcome.
Ambience
  Having been in operation for just 3 months, this place is extremely new. New furniture, new paint, and new energy! Very professionally designed and neatly decorated with a generous touch of 'wood' element all over the centre. It also exudes a very strong 'Thai' atmosphere, with the numerous Thai statues and decorative items. Warm lightings and the overall earth tone of the interior would make visitors feel relaxed and calm.
Service
  From the receptionist to the therapists, everyone was extremely warm and friendly. They spoke very gently and politely throughout our stay. Besides friendliess, the staff also displayed professionalism which unfortunately, is a rare trait in many Indonesian service personnel