Barelang Bridge is one of the most under-rated attractions here in Batam. Many travellers are awed by its architectural beauty and the amazing views of the ocean from the bridge. When it comes to accommodation, travellers did not have the choice to stay near the iconic Barelang Bridge. But now you can! Step in Batam Harris Resort Barelang, the newest 4-star resort in Batam.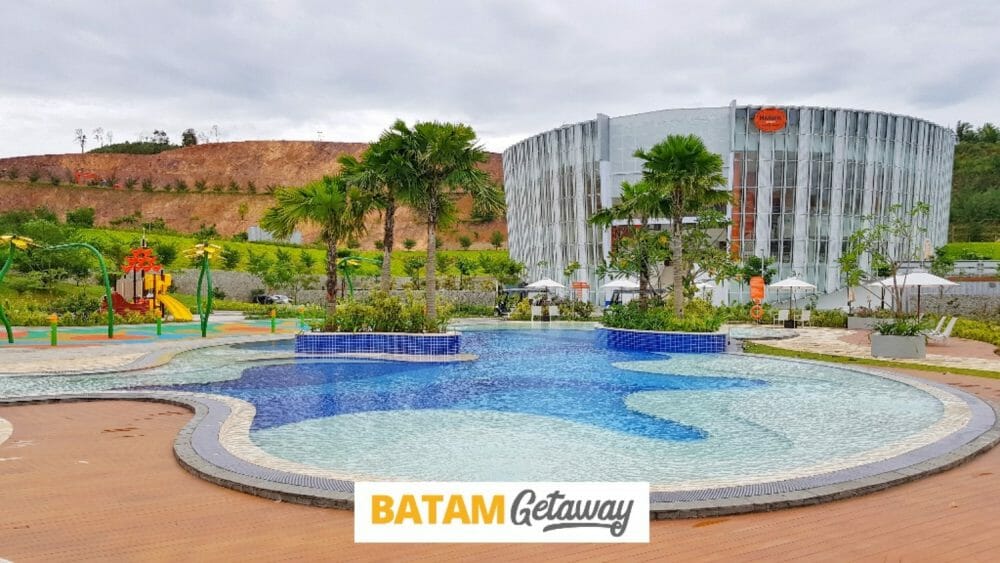 They are the first resort who took up the chance to build a resort near the Barelang Bridge. Batamgetaway were invited by Harris team and were the first lucky ones to stay for a night even before they are officially open!
Location
Located near Barelang Bridge, it will take at least 30 minutes to travel by car from the nearest ferry terminal – which will be at Batam Centre. The roads leading up to Harris Barelang can be heavily congested near evening time as majority of the residents of Batam are staying near the housing areas leading up to the Barelang bridge. There is also an industrial area located nearby. This further adds to the traffic congestion.
If you are planning to go to Nagoya Hill Shopping district, it will take more than 35 minutes by car. The nearest shopping mall from Harris Barelang Resort will be to Kepri Mall (20 minutes). Harris Resort Barelang will be opening their doors to guests from the 22nd of Jan 2018!
Batam Harris Resort Barelang provides complimentary land transfers from Batam Centre/Mega Mall:
From Batam Centre Ferry Terminal (timings are subject to change) to Harris Resort Barelang:
(GMT +7) 1000hrs, 1200hrs, 1400hrs, 1600hrs, 1800hrs
From Harris Resort Barelang (timings are subject to change) to Batam Centre Ferry Terminal:
(GMT +7) 0900hrs, 1100hrs, 1300hrs, 1500hrs, 1700hrs
Exterior
The huge façade of Harris Resort Barelang brings out the excitement of anyone who is staying here! From a distance, you will be able to see several building blocks; one of which is the futuristic design of the lobby and the sea-view blocks of which holds all the Harris hotel rooms, suites and villas.
Lobby
The futuristic looking lobby is an open concept front desk where you are able to catch a glimpse of their beach club and also the children's pool and play area. Harris being Harris, the staffs were very bubbly and constantly greeted us with a smile! Besides the standard welcome drinks, if you are lucky, they will also do a short performance welcoming their guests!
Look at that beautiful view from the lobby!
Rooms
At the moment, Harris Resort Barelang has up to 173 rooms with the rooms being divided to Harris Room, Harris Suite and Harris Villa.
One of the unique selling point for Harris Sea View Rooms and Harris Suites is the private balcony attached to the rooms. The balconies here are huge and are overlooking the Barelang bridge and the ocean.
There are also a wide range of channels from their cable television. Channels from Singapore, local television, international documentaries & even sports channels! If this is not enough, you will be surprise to know that you will also be able to watch YouTube!
Harris Room – Garden & Sea View Rooms
For the Harris Room category, there are two room types you can consider – Garden & Sea View Harris Rooms. The Garden view rooms are located on the first floor whereby the Sea View rooms are located on the upper deck. Internally, you will not be able to go down from the 2nd floor as both units are separated. To go down, there is a designated staircase located out of the rooms; which is 2-3 minutes' walk from each unit.
The Harris Room were very spacious and had good noise insulation. Do take note that the private balconies only apply for their Harris Sea View and Suite Rooms.
In each room, you can expect either a queen bed /or/ twin beds with a sofa bed for lounging. Do request early to avoid disappointment. The King Kong bed mattress, pillow and bolster used were very comfortable. It was neither too soft nor too firm. You are able to fit up to 3 adults + 1 child or 2 adults + 2 children in 1 room.
The bathroom comes with standing shower, toilet bowl and a sink. It was quite adequately sized. It had a nice touch of the industrial theme as well.
Harris Suite
If you are a family of 4, your best choice for an accommodation will be to stay in their Harris Suite. In one suite room, there are 2 rooms with a small living area.
The spacious living room can hold up to 1 extra bed (if there are additional guests) and can be used as a lounging area for families to gather, watch television and have meals together. Do bear in mind that both the queen and twin bedroom has it's own cable television as well! WOW!
One room will be occupying a queen bed and the other, a twin bed. In each room, you can expect the standard amenities such as –  individual bathroom per room (except living room) and entertainment in a form of cable television.
All the rooms here are located at the highest point of the resort. The rooms are also overlooking the Barelang Bridge and the sea with no obstructions as it is located at the highest point of the resort.
Harris Villa with Pool
At the moment, their Harris Villa consist of 2 bedrooms on the 2nd floor whereas the 1st floor, there is a huge living area with a Jacuzzi cum plunge pool located at the balcony.
The Harris Villa room type will by far have the best view of the entire Harris Resort Barelang. You will be able to get a magnificent view of the swimming pools, lobby and also the sea view. One of the downside of this room type is that you will not be able to get a view of the Barelang Bridge.
As there are only 2 villa units at Harris Resort Barelang, do expect this particular room type to be sold out pretty quickly. Thus, do book early to avoid disappointment.
Spa
When we visited, the spa and massage centre was not open yet. They are estimating it to be completed by early Feb 2018 (subject to change). They will not be engaging with an external company to run their spa & massage centre and will instead be from their very own Harris' signature treatments.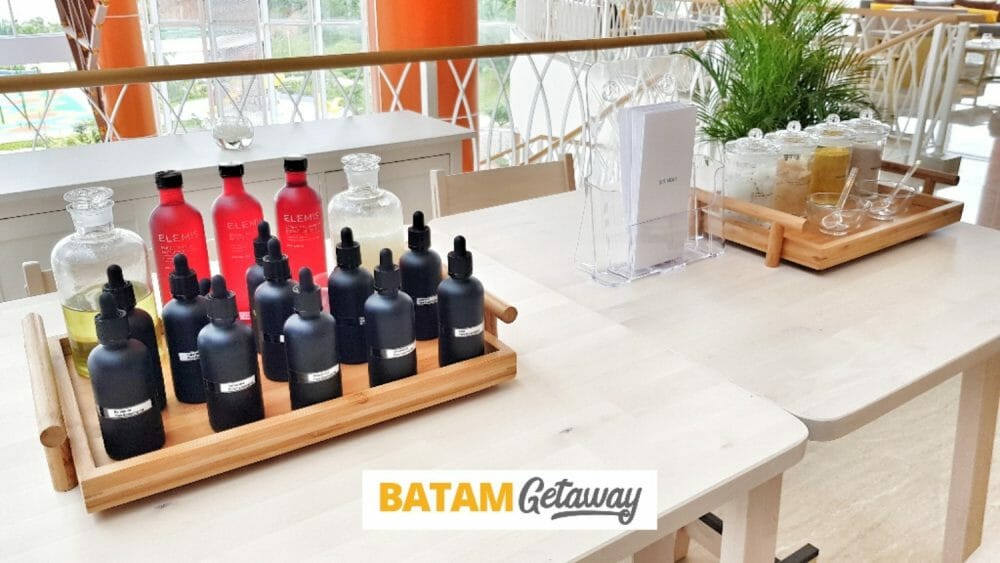 Currently, there are on-going promotions for their spa & massage treatments. For their standard 60-mins massage, it will cost you 600,000 IDR (S$60) per person. Massage package pricing excludes any on-going promotion and service taxes.
Restaurant
The Harris Café is located right below the resort's lobby. This will be one of the many restaurants you can have your meals at. Your buffet breakfast will be served here. Their signature live cooking of the pizza is a definite must see & try! Thin crust pizza cooked in a traditional manner! – in a wood fired oven.
If you are near the infinity pool & looking for somewhere to have your meals at, do consider Harris' Rocksalt Beach Club & Bistro. This is especially ideal for guests who are looking for a swim, drinks and food at the same time. Here, you will have the best views of the ocean and also Harris' Barelang Resort very own wedding chapel!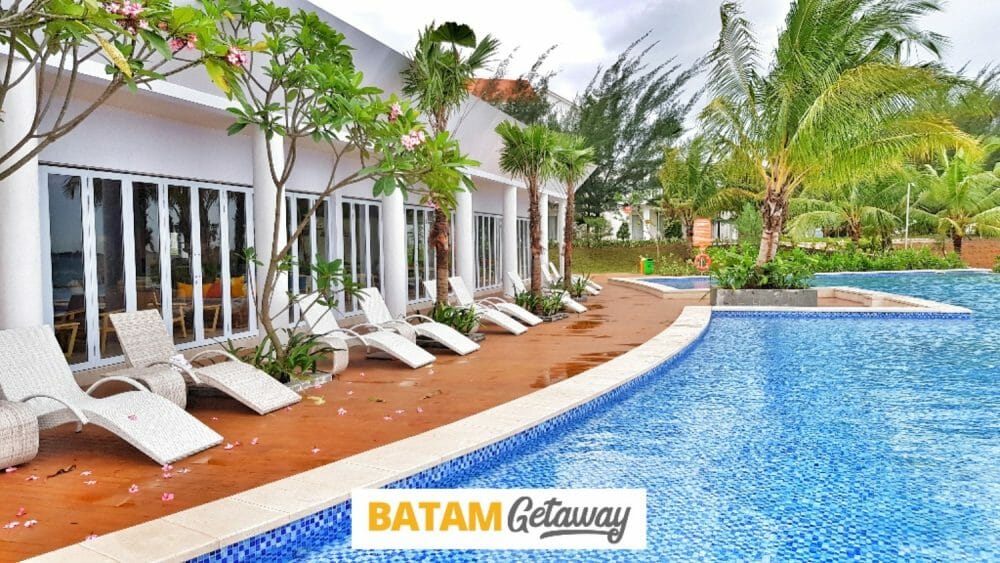 Amenities
Harris Resort Barelang has the most family friendly amenities in the entire of Batam. Amenities and facilities such as the below:
Dino Kids Club
You will be able to engage with a nanny (Harris staff) to take care of your children while you spend the day away with your partner. Your children are bound to be well taken care of while getting to enjoy the indoor playground slides and many learning playing areas. There is also an outdoor playground for them to enjoy as well.
Water Playground
Located just beside the Dino Kids Club, there are 2 kinds of water feature – one of which will be the kids' pool and also the water play area where they can run around on foamy non-slippery grounds. Both features are family friendly and a parent can be present to ensure the safety of your child. There will also be lifeguards on standby.
Lagoon & Infinity Swimming Pool
There are two kinds of swimming pool for adults to enjoy. As the beach there is not encouraged for swimming due so safety reasons, Harris Resort Barelang has decided to introduce 2 sets of swimming pools – the Lagoon & Infinity Pool. The lagoon pool is located near the kids' pool whereas the infinity pool has a whirlpool by the side and is located adjacent to the Rocksalt Beach Club & Bistro.
Wedding Chapel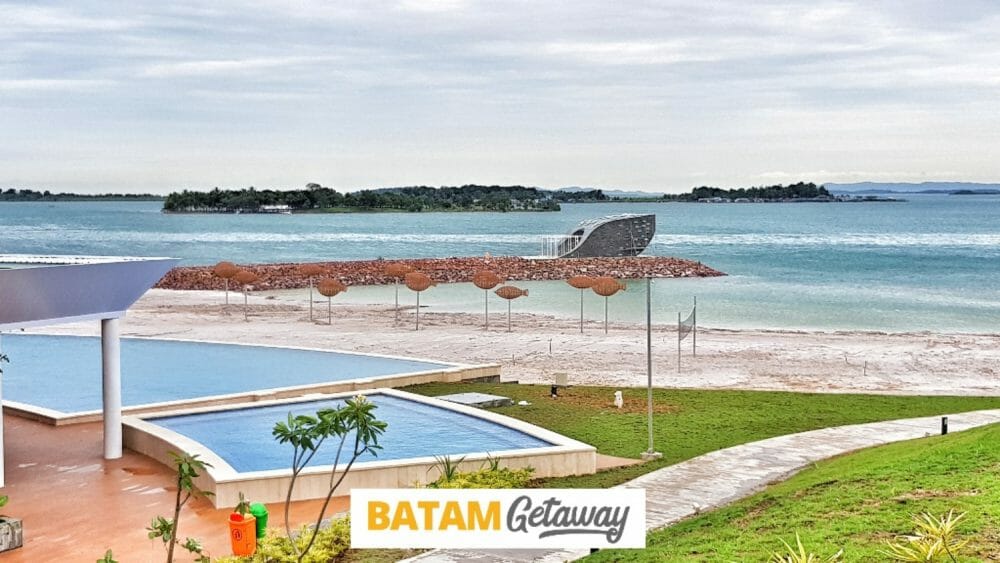 To cater to a wider market, there is also a Harris Resort Barelang Wedding Chapel. Guests are able to host their wedding ceremony cum luncheon or even renew their vows. From the infinity pool, you will be able to catch a glimpse of the beautiful chapel. The wedding chapel is located near the breakwaters and is overlooking the beautiful ocean and the Barelang Bridge.
Activities
Near the Rocksalt Beach Club & Bistro, you are able to find Harris' water sports counter. Here you will be able to opt for water activities such as Jet Ski and many more. There are also options for motorized and non-motorized sports for all ages to enjoy. The white sand beach here is ideal for beach soccer, candlelight dinner or even for families to hang around during the day! You will also be able to enjoy the sunset here!
Package & Price
Although the resort is not conveniently placed when it comes to shopping, the resort itself is a destination by itself. The view of the Barelang Bridge and sea views are to die for. You will be able to feel complete with the facilities and amenities that the resort has to offer.
We do encourage families to try out this resort. After all, the resort is new so you can expect a great time here!
With friendly smiling staff on hand to assist you, you are bound to enjoy your stay here. We can safely say that staying for a night here is not enough! To have a complete Harris experience, do consider staying for 2 nights at least!
**WE ARE CURRENTLY HAVING A PROMOTION FOR TRAVEL UNTIL END MARCH 2018** – package pricing from S$99 per person with taxes all in (weekday/weekend) for our 2D1N Harris Barelang Free & Easy package.
Verdict: A must-stay for families and even couples! The only resort in Batam to have a view of the Barelang Bridge!
Book our 2D1N (2-days-1-night) Harris Barelang Resort + ferry package. It includes 1-night stay with breakfast, 2-way ferry tickets from Singapore, and 2-way Batam land transfers (to and from Batam ferry terminal).
5/5 Value
4/5 Location
5/5 Staff
5/5 Room & Amenities
Check out Harris Barelang Resort Video