Food hunting, or restaurant hopping, is one of the top activities people do when they visit a destination these days. It's no different with Batam. People love going there to taste the varieties of Batam food, Indonesian cuisine, and even fast food.
Unhealthy as it may be, fast food is the ultimate 'comfort food' for many of us. Eating it would always give us that 'sinful yet special' feeling of satisfaction.
There are some fast food brands that used to exist in Singapore, but unfortunately not anymore. A mere mention of their name or a glimpse of their logo could trigger intense nostalgia and untold excitement in many Singaporeans.
One of those brands is of course, A&W.
A&W had its presence in Singapore for 37 years. In fact, it was the first international fast food chain to set foot here in Singapore (1966), much earlier than the more popular KFC (1977), and Macdonald's (1979).
While some of you might not have the opportunity to have it in Singapore (it pulled out of Singapore in 2003), many of us has vivid memory of it. Fret not! You can stop reminiscing and start reliving those nostalgic A&W moments when you are in Batam.
Editor Update – 7 Jul 2017: A&W will be returning to Singapore due to popular demand
But before you go there, let's review the A&W in Batam and at the same time, recall their distinct offering.
Location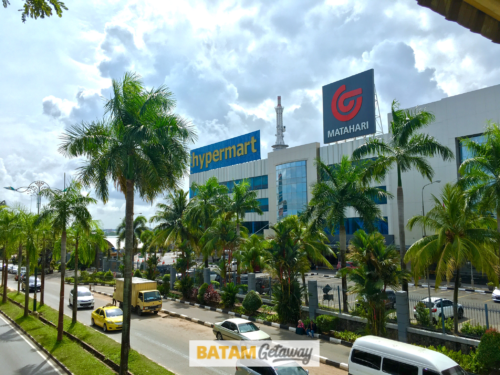 Location is always one of the top considerations for any service establishment, including a fast food restaurant. Food outlets that are conveniently located have an edge over those that need extensive travelling to get to.
Although there are currently just two of them, both A&W outlets in Batam are located at the most strategic places. One is within Nagoya Hill Shopping Mall, the top shopping centre in Batam within the main Nagoya town. The other one is at Batam Mega Mall, which is a 5-minute walk away from Batam Centre Ferry Terminal, the arrival and departure point in Batam for many visitors.
You just cannot ask for a better restaurant location in Batam than these 2 locations!
Variety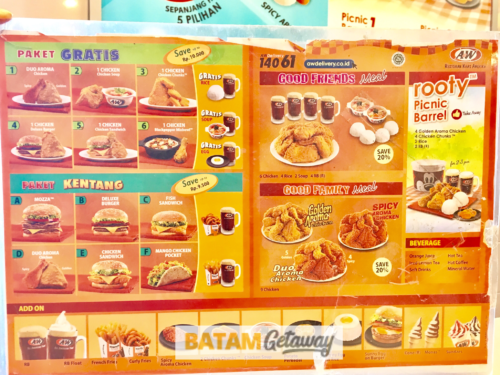 While it might not operationally advantageous to them, a wide range of food variety is definitely a bonus to customers. As a matter of fact, many customers would have more reasons to return and try out all the different offerings.
A&W are not only serving fried chickens and chicken burgers as their mains, but also sandwiches and wraps of beef, fish, and even veggie!
Let's not forget their famous curly fries as well as french fries, and nuggets as the choice of sides.
Did you know they have add-ons such as chicken soup, sunny-side up egg, rice, and even potato perkedel? Of course they also serve their well-known deserts like the waffle ice cream, sundaes, and milkshakes. Lastly, who could forget their signature Root Beer Float?
While it might not seem necessary to some, their food variety is definitely impressive for a fast food restaurant. In fact, seeing how popular A&W is with both locals and tourists, it might just be one of their recipes for success.
Quality
This is where I think they truly stand out as compared to many other fast food chains on the island, or even in the whole of Indonesia. Let's look at their main offerings.
The size of their fried chickens is smaller than those found in fast food restaurants in Singapore. I definitely prefer them this way as they look more 'normal' and taste better, with softer and better-texture meat.
As I ordered the Duo Aroma Chicken Meal, the 'Golden' chicken tasted a little like KFC's 'Original' chicken, although slightly different. The 'Spicy' chicken is my favourite as it was rather unique, although not as spicy as I would have liked.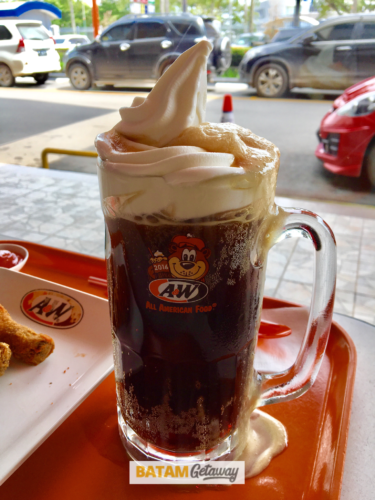 A&W Root Beer is THE thing! Many diners are here just for this legendary beverage. The ice cream is really good and creamy. Combined with the cold fizzy root beer, it's extremely refreshing. And just take a look at that generous glass size. Awesome!
An A&W meal would not be complete without the signatureA&W curly fries. I must say that their curly fries are much crunchier than those occasional ones served at Macdonald's. In addition, they are also much shorter in length, hence much easier to put in the mouth.

Although it's not an exceptional condiment, A&W Chilli at least spicier than the usual chilli sauce we have in Singapore's fast food restaurants.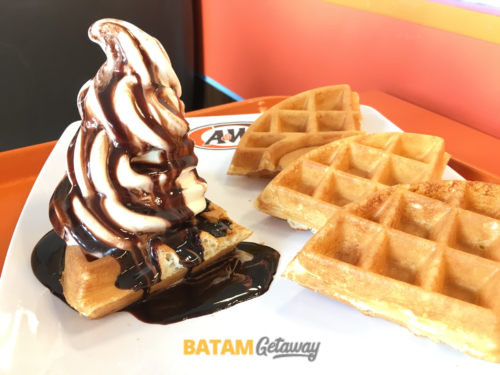 Lastly, what better way to end your meal with the sweet savoury dessert in the form of A&W Ice Cream Waffle? The waffle is topped by either chocolate, strawberry, or the peach ice cream.
Ambience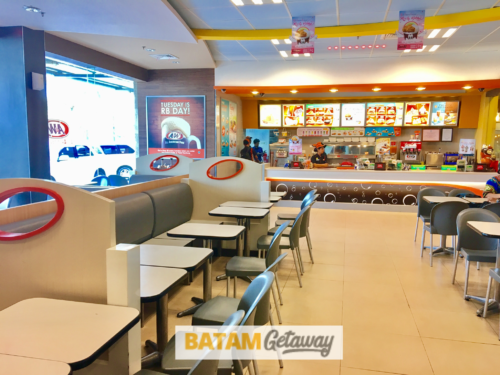 The ambience at A&W is typical of a fast food restaurant, nothing too fancy or too shabby. Nevertheless, the A&W in Mega Mall Batam Centre is my personal preference due to its size and exposed layout, giving it a very 'spacious' feel. In addition, being able to look out to the main street through the glass gives diners that combined atmosphere of being both indoor and outdoor at the same time.
Service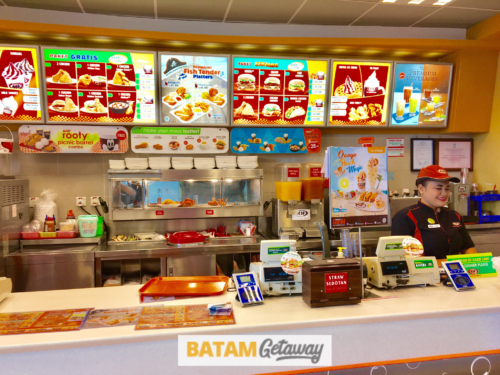 The counter staff was friendly and well-informed of all their variety of food. Although we had to wait before they served us the waffle ice cream and curly fries, the wait was reasonable.
Value

With a total pocket damage of just Rp 105,500 (SGD 11) for a 2-piece chicken meal with curly fries and root beer float, as well as a waffle ice cream, it was decently affordable.
Verdict
In conclusion, both A&W restaurants in Batam are conveniently located. In addition to its wide range of variety, the quality of food served is of good fast food standard. Moreover, the food is affordably and reasonably priced.
All in all, eating at A&W Batam will not only satisfy your fast food craving but also fulfil your soul. Even if you are not a fan of fast food, you have to give the A&W in Batam a try, especially in the name of Nostalgia!
Final verdict: Must Eat!