Based on our team's travel experience as well as our friends' and clients' feedback over the years, we have gathered 11 of the most critical travel packing tips.
With the endless choice of travel destinations, accommodations, and attractions, we are travelling more than ever before. As such, we can relate to the usual issues: forgetting to bring the right items, running for the departure gates, spending too much time packing before and during the trip, worrying about the space in our luggage and its weight, feeling restless on the 1st day, and more.
Fortunately, most of these problems can be prevented with just a little planning and preparation.
As the saying goes "Fail to Prepare and You Prepare to Fail". We believe these travel packing tips will help in your preparation so you can have an easy and enjoyable holiday!
Sponsored
1. Prepare a Packing Checklist.
Sponsored
2. Pack early, finish early, & rest early
Benjamin Franklin once said "Never Leave That Till Tomorrow Which You Can Do Today".
This is especially true for packing. We have all been through the all-too-familiar last-minute frustration, anxiety, and panic; frantically searching for that yellow trusty luggage lock, or recalling the need to get a new larger-sized swimwear at the eleventh hour.
Packing and finishing early will definitely help to eliminate these issues. Besides, finishing our preparation early will allow us to have an early rest. Ultimately, an early rest will give us the much needed energy for that early morning departure. Energy and enthusiasm are particularly precious in short trips like a 2-day-1-night Batam trip or a 3-day-2-night holiday.
3. Carry Important Documents & Items with you
Next on our travel packing tips:
hold important documents and items close to you at all times. Never leave them out of sight and put them in your backpack that's always on you, or in your pockets, wallet, etc. These are 'Indispensables' that you cannot buy or replace during your trip. They are your passport, ID cards, credit card, cash, tickets, bookings & reservations, and of course, medication & mobile phone.
One essential tip:
Make at least 2 sets of copies of your vital travel documents. Put one set in your backpack, which you carry at all times, and one set in your checked-in luggage (if you have any). Vital travel documents are your passport, visa, travel insurance, photo ID, credit card, tickets, reservations, and other travel document.
Our set of document copies saved our trip the last time my partner and I got robbed in Madrid. Without our passports, we still managed to continue our trip around Europe before heading back home (with a temporary travel document issued by the Singapore Consulate in Madrid).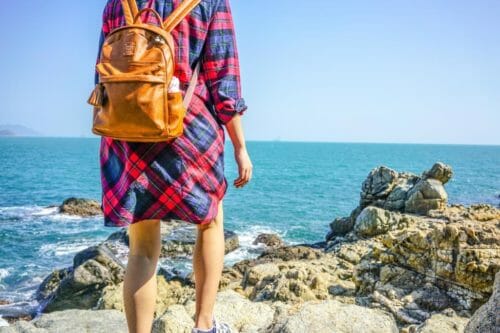 As for medication, be sure it's on you at all times. This is crucial especially if you're travelling to places like Bhutan, Nepal & Tibet. These are destinations with altitudes where the air is thin and oxygen level is low. Many people might get Acute Mountain Sickness so it's imperative to prepare some medication (aspirin, lung inhalers, blood pressure medicine, etc.) and take them with you at all times.
Sponsored
4. Organize and Optimize Your Bag & Belongings
Know the significance of your things, prioritize, and organize them in the right gear. 
Ideally, your stuff could all be put into the right-size carry-on bag. This way, you can travel conveniently and have your things with you safely at all times. Incidents like misplaced or even lost luggage are real and not within our control, so we want to minimize their impact on our holiday.
Nevertheless, if you have to carry 1 carry-on and 1 luggage, consider packing the 'Indispensables' plus your electronics in your backpack that's on you at all times. As for any other thing that you can buy at the destination, put them in the checked-in luggage.
In any case, regardless of how many bags you bring along, label them clearly and uniquely. Decorate them with tags, ribbons, stickers, shoelaces, or anything to make it recognizable. Not only will it allow for easy identification at the baggage carousel, it will also help for easy reference in the event that your bag gets misplaced.
Most importantly, lock your checked-in luggage (or even your carry-on). This is one of those underestimated travel packing tips that could just prevent unnecessary and unwelcomed surprises on your trip.
Sponsored
5. Get the Right Carry-on Bag and Checked-In Luggage
It's crucial to have the right bag / luggage for the right trip.
By and large, ease of travelling and conservation of energy are two of the most critical areas to focus on your travel. The right bags can really make or break your trip whether you are going for a Batam, Bintan, Bhutan or Bali Getaway. Hence, this is one of the most overlooked, but critical travel packing tips.
Depending on your size and stature, get the best possible backpack. The right backpack could just be the best travel investment you would ever make. A backpack can be used on almost any trip, possibly even on every trip. If you are a strong & fit individual, consider getting the slightly heavier but more versatile rolling backpack.
If you're a stylish traveller but yet require enough space and flexibility for a bag, consider getting a duffel bag or its more convenient cousin, a rolling duffel bag.
Of course, if you're carrying a lot of stuff, you have no choice but to bring the usual rolling suitcase.
Unless you're carrying some important documents and hoping to give out the right vibes before signing a $100-million business deal, never carry a briefcase. Also, avoid flashy designer luggage unless you're starving for some unnecessary attention or looking for some action from undesirable characters.
Sponsored
6. Roll Your Clothes, Don't Fold Them
Besides being easier to do and arrange,
rolled clothes take up less room than folded ones.
Consequently, you will have more space for other items in the bag. Also, rolled clothes are less likely to get deep wrinkles or creases compared to folded ones. To further save space, place your clothes inside a vacuum / compression bag.
However, if you must fold some of your clothes, try folding two or more together. This will result in less crease or wrinkle than if you were to fold them individually. You don't want your clothes looking all creased and wrinkled to your 1 million Instragram followers, do you?
 Sponsored
7. Pack Right, Travel Light
Bring what you will actually use, not what you think you will use.
To many of us, this is one of the most difficult travel packing tips to execute. We all want to be 'safe' and well covered when we travel but let's face it, the 'what ifs' don't materialize most of the time. So 'Fear' should not be your best friend while travelling.
Why drag a heavy luggage for those extra clothes that you most likely won't wear? Most destinations do sell clothes in the event that you really need to buy that extra t-shirt or shorts.
Will your teeth or body deteriorate within a few days if you don't use your Oral-B or Dove? If your 4 or 5-star hotel provides toothpaste and other toiletries, leave yours at home.
In addition, plan your activities and check the weather forecast in advance. Bring the right things, for the right purposes, and in the right quantity.
8. Versatile Clothing & Attire
Some people might ask "How do we pack fewer clothes but yet we can still cover all the possible scenarios?" The answer is simply
"Bring versatile clothing!".
So instead of packing clothes that can be only used on singular or particular occasions, bring those that can be used in various circumstances.
Abandon the thought of wearing a different outfit every single day. You can still look real good in your pictures by wearing your outfit interchangeably and creatively. The key is that they are versatile in terms of designs and colours (use basic colours like black, white, or brown for example). With the touch of some accessories, less can actually be more.
In any case, always prioritize comfort while deciding what clothes to pack into your travel bag. The one person you need to impress and satisfy the most is you, not your Instagram followers.
Sponsored
9. Leave Some Space in Your Travel Bag
A list of travel packing tips wouldn't be complete without this next advice:
leave some space in your luggage, you might just need it later.
More often than not, we will not know how much shopping we will do on our trip and how many more items we'll bring back home. After all, we want a worry-free and trouble-free holiday.
So pack strategically and leave some breathing space for your luggage. Either that or bring an extra bag or two.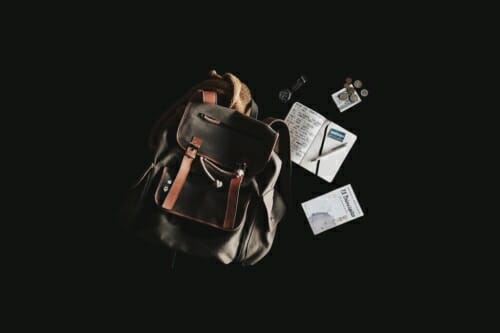 10. Plastic bags, Zipper Bags, and Extra Bags
If your baggage was always suffocated at the end of your past trips, then you should consider bringing
extra bags to manage your shopping stashes.
Also, consider extra plastic bags for your soiled or wet clothes. You don't want them to damage your devices or stain your clean attire. If possible, bring plastic bags of different sizes.
Zipper bags are extremely useful for categorizing and separating your items clearly. One Zipper bag for toiletries is a must as they can get wet or even leak at times.
Another bag could be used to keep pills and vitamins separately. You could also use one bag for other liquid items or even one to keep your gadgets and devices.
Sponsored
11. Lay Low
Rounding up our list travel packing tips is this rule of thumb:
blend in with the crowd and be as low profile as possible.
Yes we understand that you want to look your best in your social media post. However, it's not advisable to adorn yourself with that pearl necklace heirloom or a 10-carat diamond ring. You may look like an icon of style with all that jewellery, but criminals and con-artists will target you as an icon of opportunity.
Travel with peace of mind and free of worry!